THE LOG BOOK - FEATURE ARTICLE
Prada & America's Cup support boats to save lives around New Zealand
Posted By Rayglass Boats | February 16, 2021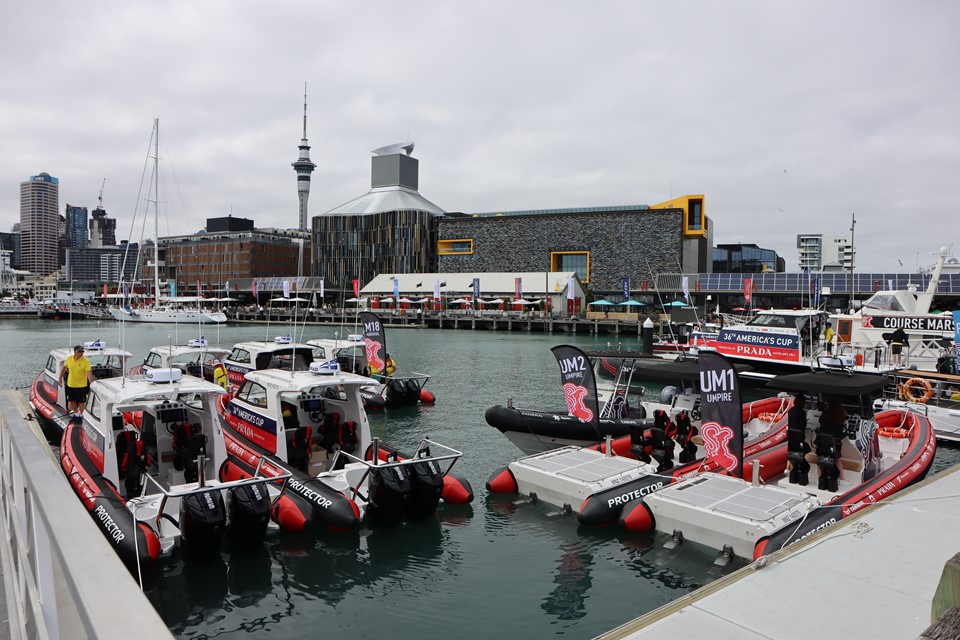 Have you watched the America's Cup recently? You probably noticed a special fleet of Rayglass Protector vessels trailing the yachts as they race around the harbour. 
These are so much more than just support boats. After providing support for the Prada and America's Cup, all 26 vessels will eventually become part of the Coastguard's fleet of rescue vessels, saving lives all over New Zealand. 
This is for you, New Zealand
The special vessels were built by Rayglass in collaboration with Coastguard New Zealand and Emirates Team New Zealand, using a $9.8 million grant from Lotto New Zealand. Coastguard CEO Callum Gillespie says that these vessels have been specifically built to benefit communities throughout the country:
"From supporting Emirates Team New Zealand and the exciting racing on the water over the next three months, to saving lives at sea, this fleet has been built for New Zealand," he explains.
Coastguard New Zealand are the charity dedicated to saving lives at sea. To carry out their vital work, they need high-performance boats that can brave tough conditions. These 26 vessels will be distributed to the fleets most in need around the country to help them keep up the good work:
"These vessels will enable us to replace some of the ageing boats at our Coastguard units
that have limited capacity to fundraise for a new rescue vessel … ensuring that our volunteers can continue their life-saving work in their communities for many years to come."
BUILDING THE COASTGUARD FLEET
Early in 2020, Rayglass started building the special fleet of Protector vessels with their dual purposes in mind. This allowed us to provide additional employment and apprenticeships in the marine sector at a time when it was needed most.
Rayglass Protectors are ideal both as support vessels and Coastguard rescue boats. Thanks to their high-performance design, they can easily keep up with foiling yachts travelling 50 knots an hour and brave the rough weather Coastguard often find themselves up against.
Each vessel has 4UNZ on the front of its cabin: a reference to the identifying letters and numbers on racing yachts and the ultimate purpose of the boats to benefit local communities. Once the America's Cup is in the bag (touch wood), the vessels will be returned to Rayglass's newly formed premium restoration department to be refitted and delivered to Coastguard units all over NZ. Team New Zealand CEO, Grant Dalton, says the vessel's dual use is great for both Coastguard and the America's Cup:
"We are delighted these boats will ultimately benefit Coastguard and Kiwi communities around the country. Coastguard are the unsung heroes of our waters … and the timing of the delivery of these boats after the America's Cup is ideal."